This is a podcast episode titled, Running IT as a Business. The summary for this episode is: <p>Today's IT leaders are being held to a higher standard. Not only do they need to be tech experts, but they also need to understand how technology can be deployed to drive business value and better outcomes. Join Cynthia Stoddard, CIO at Adobe, as she shares her experience instilling this mindset at the digital experience giant. She'll share her lessons learned along the journey to make IT's role and contribution to the business more transparent, efficient and proactive - including how to effectively manage change and create a culture to enable it.&nbsp; </p><p><br></p><p>Keynote highlights:</p><ul><li>[01:23&nbsp;-&nbsp;02:00] IT Strategy</li><li>[02:00&nbsp;-&nbsp;03:03] The vision</li><li>[03:03&nbsp;-&nbsp;04:45] Objectives and outcomes</li><li>[04:45&nbsp;-&nbsp;05:17] A roadmap to success</li><li>[05:17&nbsp;-&nbsp;05:46] Strategic investments, time spent and resources used unnecessarily</li><li>[05:46&nbsp;-&nbsp;06:23] Objectives outcomes and roadmaps not set in stone</li><li>[06:23&nbsp;-&nbsp;07:22] Strong fiscal stewards and optimizing spend</li><li>[07:22&nbsp;-&nbsp;08:20] Investment decisions when joining Adobe</li><li>[08:20&nbsp;-&nbsp;08:57] What the technology functional council is not</li><li>[08:57&nbsp;-&nbsp;09:31] A success with Zylo</li><li>[09:26&nbsp;-&nbsp;10:26] Why Zylo and notable features</li><li>[10:26&nbsp;-&nbsp;11:22] Step 1 for Adobe with Zylo</li><li>[11:22&nbsp;-&nbsp;12:48] Additional uses of Zylo for Adobe, software portfolio and control</li><li>[12:48&nbsp;-&nbsp;14:21] You can't operate in silos</li><li>[14:21&nbsp;-&nbsp;14:44] Culture affects the bottom line</li><li>[14:44&nbsp;-&nbsp;15:38] Adobe's dive into culture</li><li>[15:38&nbsp;-&nbsp;16:13] How the culture journey informed how Adobe served employees and customers</li><li>[16:13&nbsp;-&nbsp;17:39] Data-driven</li><li>[17:39&nbsp;-&nbsp;18:18] Recap</li></ul><p><br></p>
Strategic investments, time spent and resources used unnecessarily Takeaway
00:29 MIN
Objectives outcomes and roadmaps not set in stone
00:36 MIN
Strong fiscal stewards and optimizing spend
00:58 MIN
Investment decisions when joining Adobe
00:57 MIN
What the technology functional council is not
00:36 MIN
Why Zylo and notable features
00:54 MIN
Step 1 for Adobe with Zylo
00:56 MIN
Additional uses of Zylo for Adobe, software portfolio and control
01:26 MIN
You can't operate in silos
01:33 MIN
Culture affects the bottom line
00:21 MIN
Adobe's dive into culture
00:54 MIN
How the culture journey informed how Adobe served employees and customers Takeaway
00:34 MIN
Cynthia Stoddard: Thank you, Eric. I can't say how happy I am to be here today to share stories about running IT as a business with everyone.
Cynthia Stoddard: To stay competitive in the market, you must run IT as a business. Running IT as a business means as an organization, IT has to think and act in terms of business value and outcomes, not activities, tasks, or deliverables. Specifically running IT as a business means establishing an IT strategy with clear, specific, and measurable outcomes for the fiscal year, and that align with the company's goals and objectives. It means managing our investments with budgeting, resource planning, optimized third- party spend from all vendors, and rapidly integrating strategic integrations, and sure being good stewards of the funds entrusted to us. It means enabling scale with seamless execution and adoption through specialized PMO in organizational change management functions. Most importantly, run IT like a business means having culture, fostering it, protecting it and growing it. People are at the heart of everything that we do.
Cynthia Stoddard: The foundation of running any business, including IT, is your strategy. The IT strategy is where we venture into all of the amazing things we can deliver to the business and our stakeholders, prioritize and set objectives around them, hypothesize the methods to achieve these objectives, and define metrics and milestones to gauge our success throughout the year. An IT strategies should have at least a vision and outlook, objectives and outcomes, and roadmaps to success. The vision serves as our north star and guides us in moving the organization forward in achieving the objectives that we set. The vision should be bold, inspiring, and relatable. It should be a visionary. Leaders should co- create their vision with their leadership teams and recommit to it at least yearly and change it as needed to reflect business strategy and the market as it evolves over time using the vision as a reference, and then dive deeper.
Cynthia Stoddard: Envision the long term, midterm, near term, and then create outlooks for IT's future. Ask yourself, what should IT look like three to years from now? It's okay if you don't get there, because things may change. Then ask, what does IT need to do in the next two to three years the achieve this? Then ask yourself what needs to be delivered in the next year. Each outlook funneling closer to the present day should get more and more granular and attainable.
Cynthia Stoddard: Once you're aligned on your vision and outlooks, set your objectives and outcomes. Set value focused objectives that state the business value. I'm going to repeat business value, business impact that IT will deliver in the next fiscal year. This is not the task you'll complete to create the impact, or the deliverables or outputs those task produced. It is business impact. Align your objectives vertically at different team levels and horizontally across the IT functions and your business partners.
Cynthia Stoddard: Publish the objectives throughout the IT organization so that everyone knows them, and can see how their work aligns to them and then test it. Have the team give presentations of their work to you and have them tie their accomplishments to the objectives so that people can see the connection.
Cynthia Stoddard: Set outcomes that will show progress against the deliverables. This is how we know we are successful. Outcomes should be specific and measurable. That is, outcomes should be key milestones that deliver value, like functionality released on viable amounts like hours saved, perhaps through automation, or financial impact like AR are achieved. Track a variety of outcomes, ones that show measurable indications of progress, such as successful POCs, or performance improvements. that show ultimate success, such as increased revenue, time saved, customer satisfaction, and ones that show quality, such as system uptime or meantime to detect and your resolution of critical service outages.
Cynthia Stoddard: Your IT strategy, the vision, outlook, objectives, and outcomes needs a roadmap to success, a document or a set of documents that set forth programs and initiatives that IT will deliver to achieve its objectives in the upcoming year. This is as measured by those outcomes. Think about your roadmaps in terms of capabilities. These are the products and services that you provide as an IT organization. These capabilities should grow and mature over time.
Cynthia Stoddard: When setting your roadmap, consider your strategic investments, what you want to invest in, and perhaps areas where you don't want to spend anymore. Look at what systems you should retire. Prioritize and balance your portfolio among the work that keeps the lights on, work that grows existing capabilities, and work that transforms business and IT. Also consider industry, peer benchmarks, and your talent and resource strategies.
Cynthia Stoddard: Objectives, outcomes, roadmaps are not set in stone. They should be living and breathing. Review your progress at least quarterly, and really look at the outcomes you've achieved. Are your programs initiatives producing the results that advance your objectives? Should you be doing different work? Perhaps you should be measuring differently and tracking different outcomes. Or maybe you should be focusing on different objectives, considering the business and industry trends. Regularly assess and reprioritize to make sure you're spending where it really matters.
Cynthia Stoddard: In addition to IT strategy, running IT as a business means managing your investments with rigorous budgeting and optimized third- party spend from all vendors, particularly from software. We must be strong fiscal stewards of our budget and spend our money prudently and wisely. In this regard, there's three success stories that I'd like to share with you. A governance council, standardizing software, and our employee software store. The governance council can be created to provide visibility and oversight of investments in value delivery. The standardization, control costs, and manage our software ecosystem, and the employee software store, a one stop shop for Adobe employees to get all of their software needs, which also helps us manage our software ecosystem. I have to say that Zylo was a critical enabler of the last two successes.
Cynthia Stoddard: When I joined Adobe, we created what we refer to as a technology functional council, or TFC. As a standing information sharing in governance body, I'd share where on a monthly basis we review investment decisions, contracts, approval requests, savings, CapEx, as well as software spend outside of my organization in excess of$ 1 million. I've used this type of governing council throughout my career and it really helps manage the business of IT. Our primary focus is on incremental investments. This is any spend, CapEx or OpEx in excess of a 100K, something like software updates, data center build outs, hardware purchases, and so forth. We also look at investment decisions made in prior months and explore new technology such as in tooling software that will enhance or even sunset existing processes.
Cynthia Stoddard: Let me tell you what the technology functional council is not. It's not a monthly business review, a project deep dive, or execution approvals. The council has been a real success. It provides visibility on my organization's investments across the organization, across Adobe dependencies and opportunities. It acts as a feedback loop by giving guidance on IT financial strategy alignment and facilitating discussions on risks and trade offs. It's also a forum to share ideas across the teams.
Cynthia Stoddard: Another great success that we optimize was optimization of our software across Adobe. This effort began with getting the data right. We needed a lot of different information to have an end to end view of our software usage as Adobe. We had pieces of information we needed in different places on balance sheets and project management tools and our HCM and procurement systems, just to name a few. This is where we partnered with Zylo. We use Zylo to manage our entire software inventory across the Adobe.
Cynthia Stoddard: Some Zylo features we found especially helpful where it is out of the box categorization of software into functional groups, the ease with which it integrated to our upstream systems, and also how it helped us identify titles we were using through its very special AI.
Cynthia Stoddard: We still have a very lightweight and agile organization that leverages Zylo with the mission of optimizing and simplifying our software through standardized way of categorizing and managing our titles, enabling a scalable and controllable portfolio of software that employees can use. Its goal is to establish designated standard software titles by functional area and thereby reduce costs, eliminate redundant applications, and control our software ecosystem.
Cynthia Stoddard: The first thing this organization did was take an inventory of all of our software using Zylo's AI to help us identify all the different tools we were using. We started looking, and we identified and categorized over 1, 600 different titles. As we continued to look, more titles came into our view and our active portfolio grew to over 2, 500 titles. We use Zylo's categorization of software as a guide and then partner with teams across the company to develop software standard titles for each category of applications and to designate the standard so that we could begin consolidating and sun setting. To date, we've identified almost 200 preferred standard titles, have consolidated over 50 applications and contracts, and have unleashed substantial savings, which we have used to fund other transformational work.
Cynthia Stoddard: In addition, we knew that business needs change over time and as we continue to acquire new companies, our software portfolio needs to evolve to. So we use Zylo to develop an intake, disposition, and exception process so that we can manage what comes into the ecosystem through these acquisitions. We didn't stop at standardization. Yeah, no way.
Cynthia Stoddard: To further control the software ecosystem, we had to create a centralized location for employees to go and download the software titles they need. With Zylo as the backbone, we created what we call an online workspace store and published it across the company. The store offers employees hundreds of titles that are pre- approved company standards and most of them are available for download in a self- service fashion. If an employee needs a title not in the store, they can request exception through a link on the UI. The store offers a great user experience with very strong CSET scores. We're a 4. 4 out of 5 since we launched it about two years ago.
Cynthia Stoddard: But equally important, it provides business control. It keeps employees from downloading software using their credit cards, and therefore it mitigates risk.
Cynthia Stoddard: To run IT as a successful business, you can't operate in silos. You have to move with velocity and agility to sustain growth effectively. You need seamless execution and adoption of all IT solutions and accelerated time to value with acquired companies. And you need this at scale. To do this, we centralized PMO in organizational change management capabilities and created PMO and organizational change management centers of excellence to support IT and the entire company. The two centers of excellence offer a variety of services, but their operating models primarily have the following components: high touch, which is full- time staff, PMO, or change management support for program or initiative, low touch, which is consulting services on best practices, and self- service, which provides leading tools, templates, playbooks available to anyone in the company on demand to enable the programs. Both centers also deliver communities of practice for people to leverage each other's successes and wins, specialized training and certifications across the company, and analytics insights. Centralizing both of these functions allows to deliver specialized PMO and change management capabilities at scale to enable seamless execution and adoption of IT solutions and fast integration of M& As.
Cynthia Stoddard: Lastly, running IT as a business means it as a culture. The most successful IT organizations recognize that culture impacts the bottom line. Culture drives productivity and retention, so it is important that it be identified, nurtured, and grown. People are at the heart of what every business does.
Cynthia Stoddard: In my organization, we have embarked on a cultured deep dive journey about a year ago. We wanted to understand what our culture was, what it should be, and what we needed to do to get to the end state vision we wanted. Now you might ask, what is culture? Culture are the characteristic features of everyday existence shared by people in a time or place. An organization's culture is the collective behaviors of its members as influenced by the organization's values, the intangible ethos and way of working to embrace that team. Culture and values provide the foundation upon which everything else is built. Culture can either be an accelerator leading the organization with high velocity or as realization of the strategy, or... oh wait, dragging the organization down with attrition and lack of engagement.
Cynthia Stoddard: Our culture journey focused on evolving our ways of working and growing our team dynamic to best serve our people, Adobe, and Adobe's customers. Our philosophy in this culture journey was co- creation, engaging team members from across the organization to define our future, creating a community of passionate and culture advocates, voice of the employees, listening, listening to all voices equally, trying and refining, looking at ideas and continuing to refine and adjust, being data informed.
Cynthia Stoddard: We use data to inform our culture change and what we focus on, and continually assessing. We keep a regular pulse to measure success, listen to feedback. Culture is not a one time exercise, it's a continuous and ongoing investment with your people. Taking a data driven approach, we deployed a survey to our entire globals organization to gather input from the entire organization on our current culture and desired future state. We conducted a series of focus groups to qualify and better understand the data from the survey. We heard things that reaffirmed the good aspects of our culture, such as the desire to continue to be collaborative and innovative, and we also receive feedback on areas where we could improve, such as being more talent centric with clearer career pathing, delivering more organizational communications to keep everyone informed on the great work that we do, and empowering team members to make decisions and improve velocity. A smaller group then collaborated and created what we call an identity document, which takes the data from the survey and focus groups and translates it into actionable behaviors that serve as our north star for how we interact with one another and everyone at Adobe. In effect, the identity is the vision for our culture and we are now on the journey to bring it to life.
Cynthia Stoddard: To conclude, running a successful IT organization is running a business. You need a strategy, fiscal operations, seamless delivery and execution on culture. I've said it a few times already, and I'll say it again. People are at the heart of everything that we do. I always say to my team, " We're better together," and it's very true. Our collective power is stronger, smarter, and more dynamic and agile than any one individual could ever be. Trust each other, communicate openly, and you will be better together and successfully run your organization as a business.
Cynthia Stoddard: Thank you so much for your time today.
DESCRIPTION
Today's IT leaders are being held to a higher standard. Not only do they need to be tech experts, but they also need to understand how technology can be deployed to drive business value and better outcomes. Join Cynthia Stoddard, CIO at Adobe, as she shares her experience instilling this mindset at the digital experience giant. She'll share her lessons learned along the journey to make IT's role and contribution to the business more transparent, efficient and proactive - including how to effectively manage change and create a culture to enable it. 
Today's Guests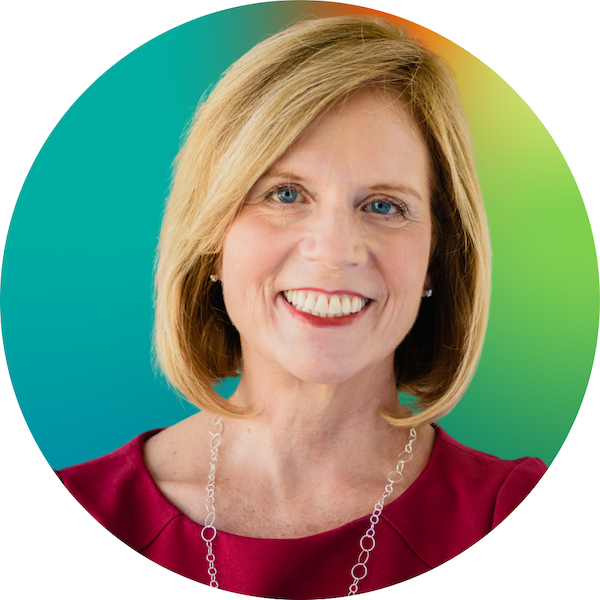 Cynthia has twenty-five plus years of experience directing the design, implementation and operation of mission-critical information technology strategies and systems for global enterprises.
Follow Cynthia on LinkedIn